MIDDLE GRADE - ages 8 - 12
ALEX AND THE IRONIC GENTLEMAN
Winner of the Heart of Hawick award
Finalist for the Red Cedar award

PUBLICATION DATE:
September 18 2007 (USA),
October 1 2007 (Canada)
PUBLISHER:
Weinstein Books (USA), Scholastic (UK/Canada)
FORMAT:
Hardcover, paperback, audio book, ebook
"Kress's debut is a wonderful blend of whimsy and moral, with winks at the reader on every page. . . This inspired book should hold up to many re-readings."
- Publisher's Weekly, starred review
"Quirky, hilarious and genuinely exhilarating."
- Eoin Colfer, best-selling author of the Artemis Fowl Series
Often mistaken for a boy because of her haircut and name, Alex Morningside is an inquisitive girl of ten-and-a-half who attends the prestigious Wigpowder-Steele Academy. Luckily for Alex, the new school year brings an exciting new teacher. Mr. Underwood makes lessons fun and teaches her how to fence. But Mr. Underwood has a mysterious family secret - the swashbuckling and buried treasure kind - and not everyone is glad he has come to Wigpowder-Steele. When the infamous pirates of a ship called the Ironic Gentleman kidnap Mr. Underwood, Alex sets off on a journey to rescue him, along the way encountering a cast of strange and magical characters, including the dashing Captain Magnanimous, Coriander the Conjurer, the Extremely Ginormous Octopus, and the wicked Daughters of the Founding Fathers' Preservation Society.
TIMOTHY AND THE DRAGON'S GATE
Finalist for the Red Cedar Award
Finalist for the Audie Children's Book Award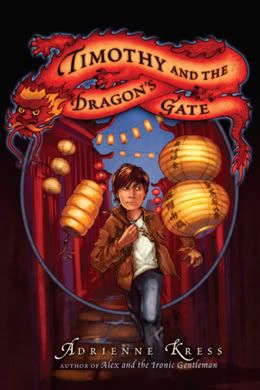 PUBLICATION DATE
: January 13th, 2009
PUBLISHER:
Weinstein Books (USA), Scholastic (UK/Canada)
FORMAT:
Hardcover, paperback, audio book, ebook
AVAILABLE FROM:
Indiebound
"Timothy and the Dragon's Gate is an old-fashioned tale told by
- Quill and Quire, starred review
Eleven-year-old Timothy Freshwater has been expelled from every school in the city.
With nowhere else to go, he joins his father at the Tall and Imposing Tower of Doom and lands himself an internship with Evans Bore, its hopelessly awkward CEO. When his father is called away on business, Timothy's real education begins. Left in the care of his eccentric neighbour Sir. Bazalgette, Timothy learns some curious facts about Mr. Bore and his unusually loyal mail clerk, Mr. Shen—facts that lead to unbelievable revelations: about dragons, servants,
and the laws that bind them.
With time running out, Timothy takes it upon himself to change one dragon's fate, and begins an adventure that will not end until he is relentlessly pursued by a pack of blood-thirsty black cabs, a crazed ninja and the most
feared pirate in the South China Sea!
The sequel to Alex and the Ironic Gentleman - this books starts off as its own unique tale of daring-do and then halfway through meets up with the end of Alex's story. It is at this point that Timothy and Alex join forces to finish this crazy adventure together.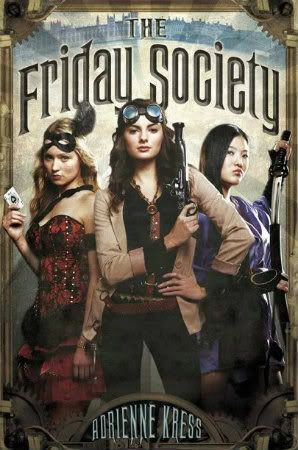 PUBLICATION DATE:
December 6, 2012
PUBLISHER:
Dial, Penguin (USA), Razorbill (Canada)
FORMAT:
Hardcover, ebook, audio book (narrated by the author)
SYNOPSIS
:


"This book is pure fun and adventure, and the author's casual, irreverent sense of humour is apparent on every page." - Quill and Quire, starred review



Be your own hero.





An action-packed tale of gowns, guys, guns--and the heroines who use them all.





Set in London, 1900,

The Friday Society

follows the stories of three very intelligent and talented young women, all of whom are assistants to powerful men: Cora, lab assistant; Michiko, Japanese fight assistant; and Nellie, magician's assistant. The three young women's lives become inexorably intertwined after a chance meeting at a ball that ends with the discovery of a murdered mystery man.





It's up to these three, in their own charming but bold way, to solve the murder--and the crimes they believe may be connected to it--without calling

too

much attention to themselves.





Told with Adrienne Kress's sharp wit and a great deal of irreverence, this Steampunk whodunit introduces three unforgettable and very ladylike--well, relatively ladylike--heroines poised for more dangerous adventures.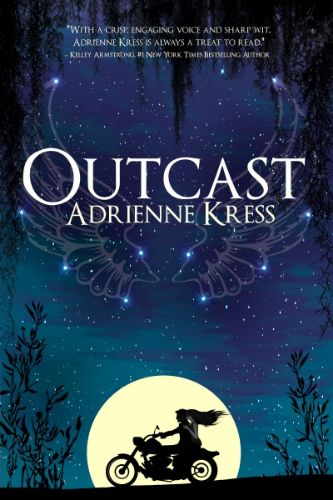 PUBLICATION DATE:
June 4, 2013
PUBLISHER:
Diversion Books
FORMAT:
Paperback, ebook
AVAILABLE AS EBOOK (list of all ebook links):
SYNOPSIS
:
"With a crisp, engaging voice and sharp wit, Adrienne Kress is always a treat to read." - Kelley Armstrong, #1 New York Times Bestselling Author
After six years of "angels" coming out of the sky and taking people from her town, 16-year-old Riley Carver has just about had it living with the constant fear. When one decides to terrorize her in her own backyard, it's the final straw. She takes her mother's shotgun and shoots the thing. So it's dead. Or … not? In place of the creature she shot, is a guy. A really hot guy. A really hot alive and breathing guy. Oh, and he's totally naked.
Not sure what to do, she drags his unconscious body to the tool shed and ties him up. After all, he's an angel and they have tricks. When he regains consciousness she's all set to interrogate him about why the angels come to her town, and how to get back her best friend (and almost boyfriend) Chris, who was taken the year before. But it turns out the naked guy in her shed is just as confused about everything as she is.
He thinks it's 1956.
Set in the deep south, Outcast is a story of love, trust, and coming of age. It's also a story about the supernatural, a girl with a strange sense of humor who's got wicked aim, a greaser from the 50's, and an army of misfits coming together for one purpose: To kick some serious angel ass.
PUBLICATION DATE:
May 10, 2011 (USA), May 26, 2011 (UK)
PUBLISHER:
Running Press Kids (USA), Robinson Publishing (UK)
FORMAT:
Paperback
AVAILABLE FROM AMAZON:
USA
,
UK,
AVAILABLE FROM:
Barnes & Noble
SYNOPSIS
:
A stunning anthology of the very best of steampunk that's taking teen fiction by storm. Bestselling romance editor Trisha Telep brings an exciting new element to the fast-growing sub-genre of steampunk, which bends and blends the old and the new in increasingly popular dark urban fantasies. Young heroes and heroines battle evil, in various forms with the help of super-technological or supernatural powers, while falling in and out of love.
THE GIRL WHO WAS ON FIRE:
YOUR FAVORITE AUTHORS ON SUZANNE COLLINS' HUNGER GAMES TRILOGY
"THE INEVITABLE DECLINE OF DECADENCE"
PUBLICATION DATE:
April 5, 2011
PUBLISHER:
Smart Pop (USA)
FORMAT:
Paperback
AVAILABLE FROM AMAZON:
USA
Praised by writers from Stephen King to Stephenie Meyer, Suzanne Collins' New York Times bestselling Hunger Games trilogy is dark, captivating, and deeply thought-provoking. Part straight-up survivalist adventure, part rich allegory, and part political thriller, the series has become a new YA favorite.
The Girl Who Was On Fire offers even more to think about for teen readers already engrossed by the Hunger Games. From the trilogy's darker themes of violence and social control to reality television, fashion, and weaponry, the collection's exploration of the Hunger Games by other YA writers reveals exactly how rich, and how perilous, protagonist Katniss' world really is.
The Girl Who Was On Fire covers all three books in the Hunger Games trilogy.